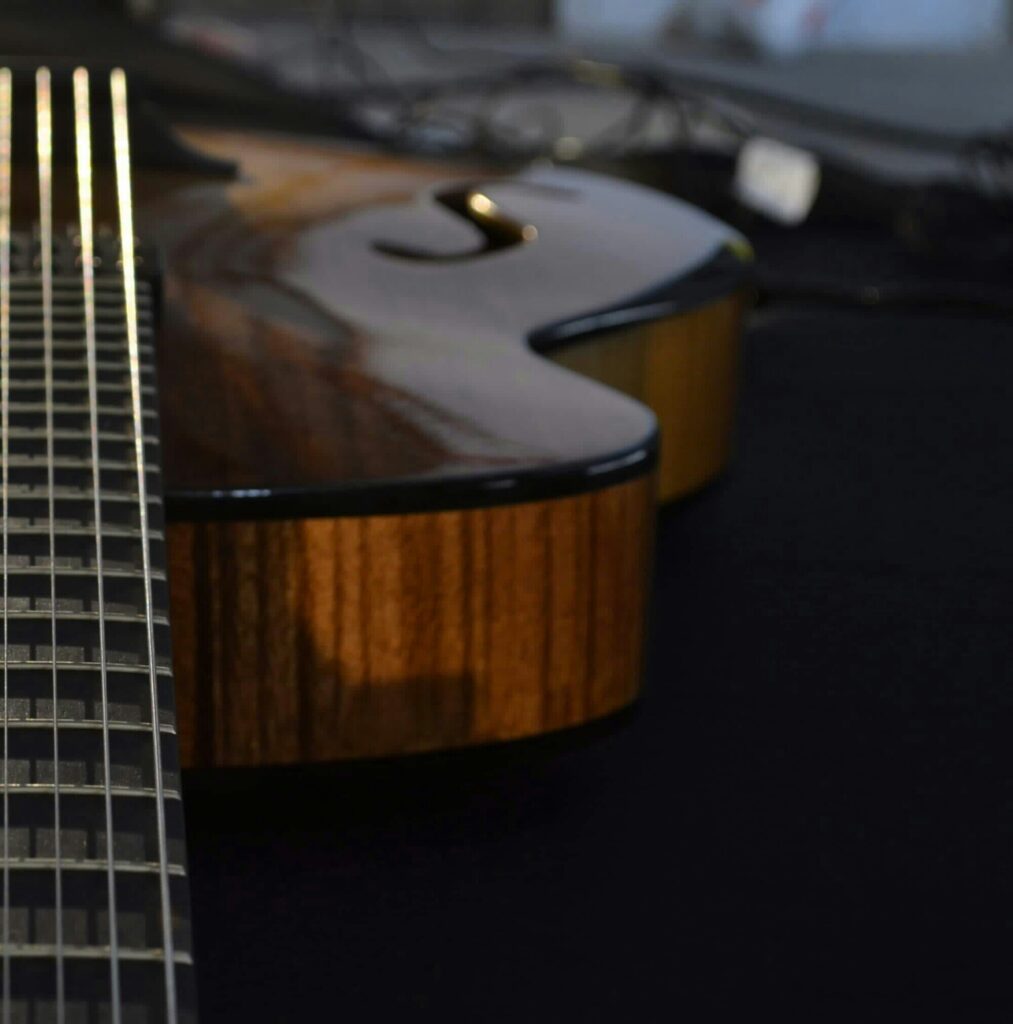 The top model of the Atelier.
After 4 years of study and research, unique design with a modern playability.
The body has a width of 17 " inches, with the Back & Sides in Balkan Flamed Maple and a top in Italian Spruce from Val di Fiemme;
All wood is hand carved by hand in the classical tradition of the Cremonese school.
The F's are unique in their design.
The neck is in figured maple, with a rounded C-section, covered by a perfectly black ebony fingerboard with 21 Medium-jumbo frets.
Ebony is everywhere, starting from the modern headstock to the tailpiece; in contrast to the "Tabacco Blond" shaded finish all over the body.
Soundport is always optional.
The sound is clear and full-bodied and surprisingly versatile in it's genre: from jazz to blues; with excellent volume even in acoustic.
Il modello di punta dell'Atelier.
Concepito dopo 4 anni di studi e di ricerca, design unico nel suo genere con una suonabilità moderna.
Il corpo ha una larghezza da 17 " pollici, con fondo e fasce in Acero Fiammato dei Balcani ed un top in Abete Italiano della val di Fiemme;
Tutto interamente scavato a mano come prevede la tradizione classica della scuola Cremonese.
Le F che sono uniche nel loro design.
Il manico è in acero figurato, con una sezione a C arrotondata, ricoperto da una tastiera in ebano perfettamente nero con 21 tasti Medium-jumbo.
L'ebano è ovunque, partendo dalla moderna paletta fino alla cordiera; a contrasto con la finitura "Tabacco Blond" sfumata su tutto il corpo.
Il soundport è sempre opzionale.
Il suono ne risulta chiaro e corposo e sorprendentemente versatile nel suo genere: che spazia dal jazz, al blues; con un ottimo volume anche da spenta.
ARCHTOP  SPECIFICATIONS:
Top: Italian Val di Fiemme Spruce (Hand carved)
Soundhole: Custom F-holes
Back & Sides: Bosnian Flamed Maple Mastergrade quality or African Mahogany
Neck: Bosnian Flamed Maple
Fretboard: Ebony
Scale length: 648mm/25.5″ inch
Number of frets: 21
Fret hardness: Stainless (INOX)
Bindings: Ebony + Ebony Bevels
Varnish: Violin Color (hand rubbed) + Syntetic finish
Bridge: (MODERN) Ebony + Bone saddle,
Tuners: Hipshot
Tailpice: Handmade
Amplification: "Ken Amstrong" Paf Handmade + Tone and volume "Schatten" thumbweel
Case: Bam Hightech Archtop Case (17″ inch)