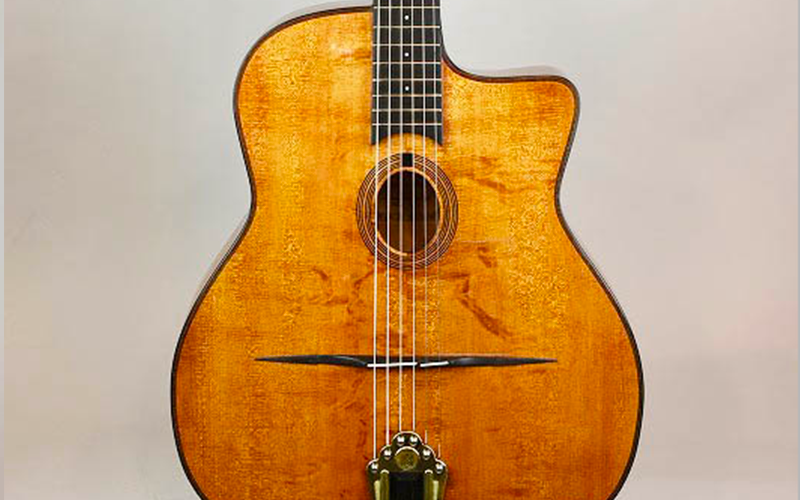 The most elegant model of my line of guitars. It stands out for its scenic presence; it's coloring has reddish-brown shades reminiscent of the colors of the famous "Cremonesi" violins.
The Flamed maple is the master: the Back, the Sides, the neck in 5 pieces.
The Soundboard is made of Swiss Spruce extra quality.
A symbiosis of precious and super selected woods.
This model expresses it's individuality, with a modern design.
The resulting sound: Modern, powerful, elegant, with a well-defined range over the entire sound spectrum (Texure).
Il modello più elegante della mia linea di chitarre.
Si contraddistingue per la sua presenza scenica; la sua colorazione ha sfumature bruno-rossastre che ricordano i colori dei famosi violini "Cremonesi".
L'acero Marezzato ne fa da padrone: il Fondo, le Fasce, il manico in 5 pezzi.
La tavola Armonica è in abete Svizzero di qualita extra.
Una simbiosi di legni pregiati e super selezionati.
Questo modello esprime la sua individualità, dal design moderno.
Il suono ne risulta: Moderno, potente, elegante, con un range ben definito su tutta la gamma (Texures) dello spettro sonoro.
LUXURY SPECIFICATIONS:
Top: Swiss Spruce Bearcrow (Mastergrade)
Soundhole: Oval or D-hole
Back & Sides: Solid Flamed Maple (Mastergrade)
Neck: Flamed Maple 5pz.
Fretboard: Ebony
Scale length: 670mm/26.4″ inch
Number of frets: 21
Fret hardness: Stainless (INOX)
Bindings: Ebony
Varnish: Violin color (Hand Rubbed) + synthetic
Modern Bridge: Ebony + Bone saddle
Tuners: Miller
Tailpice: Miller
Amplification: on hold* (Gullansky lab sensors or Carlos Sensors)
Case: Hiscox or Bam Case*