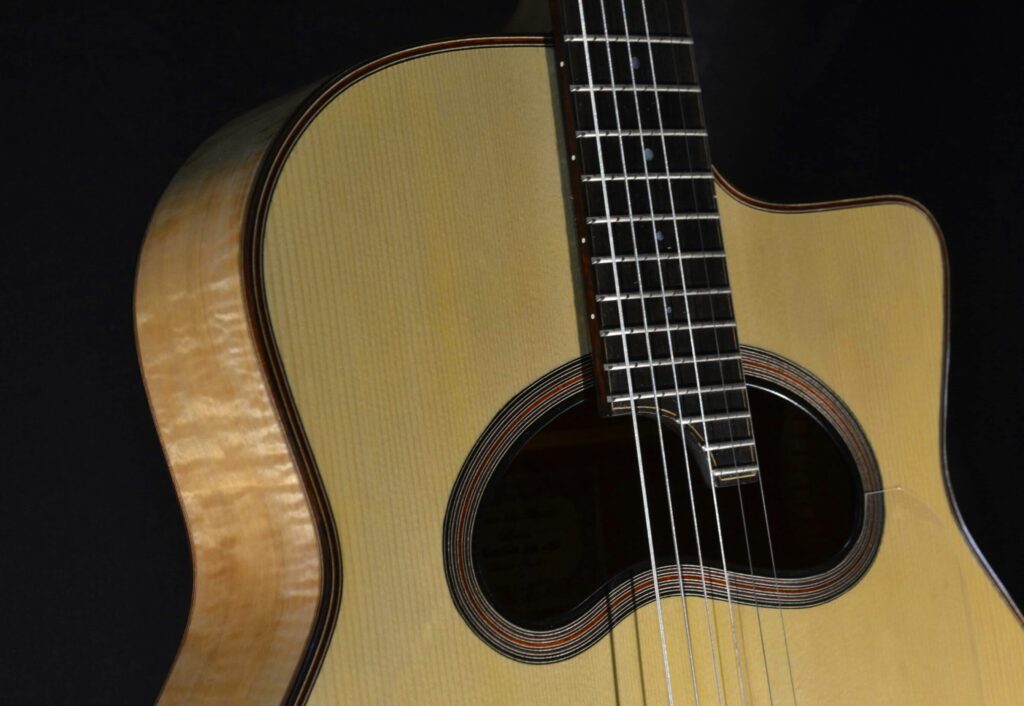 Elegant, powerful and unique.
This makes it a perfect combination of precious essences and defined sounds.
A model completely customizable in the choice of Back & Sides.
The most suitable woods for this model are: Italian Maple, Ziricote, Brazilian Rosewood, Cocobolo; Massive solid wood.
The hole is customizable: from the famous oval, D-hole, Heart-hole, to the most elegant F.
Varnished with Shellac, which enhances the maximum sound, and the beauty of the woods.
A guitar with unique performances.
Elegante, Potente ed unica.
La rendono cosi un perfetto connubio tra essenze pregiate e sonorità definite.
Un modello completamente personalizzabile nella scelta del fondo e fasce.
I legni più adatti per questo modello sono: L'acero italiano, Ziricote, Palissandro brasiliano, il Cocobolo; rigorosamente in massello.
La buca è personalizzabile: dalla più famosa ovale, D-hole, Heart-hole, Fino alle più eleganti F.
Verniciata con Gommalacca, che ne esalta il massimo del suono, e la bellezza dei legni.
Uno strumento dalle prestazioni uniche.
CONCERT SPECIFICATIONS:
(Customizable)
Top: Italian Val di Fiemme Spruce or Cedar
Soundhole: Oval, D-hole, Heart-hole, custom
Back & Sides: Chose from: Flamed Maple, Ziricote, Rio Rosewood (CITES), Quilted Maple, Cocobolo. -ALL WOOD ARE SOLID- (Mastergrade quality*)
Neck: chose from: Bosnian Maple, Italian Walnut, African Mahogany
Fretboard: Ebony
Scale length: 670mm/26.4″ inch
Number of frets: 21/26
Fret hardness: Stainless (INOX)
Bindings: Ebony
Varnish: Shellac + Syntetic porefiller
Bridge: (MODERN) Ebony + Bone saddle, or (STANDARD) ebony or rosewood.
Tuners: Miller
Tailpice: Miller
Amplification: on hold* (Gullansky lab sensors or Carlos Sensors)
Case: Hiscox or Bam Case*